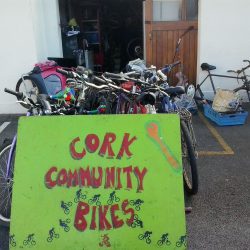 Cork Community Bikes is run by volunteers on a non-profit basis. We opened our do-it-yourself bicycle workshop in Summer 2007 at Cork Foyer for the community to use.
Besides our weekly workshop sessions, we have monthly meetings for the management of the project. Please contact us if you would like to get involved.
Assumption Road, Blackpool, Cork T23 FDT4
Rothar was established in 2008, selling anything on two wheels that could keep cash-strapped Dubliners moving despite the recession. We opened other shops, on the Southside in the suburbs, but business moved a lot online so we decided to be full time Northsiders in August 2019, at our new fancy shop on 167 Phibsboro road.
We have over the years chosen very carefully the brands we sell - ORBEA because they make everything really well, from fast hybrids to the super elegant Gain electric bike, ACHIELLE because they are a 3rd generation family business making the most gorgeous machines by hand in Belgium, MARIN because they make brilliant adventure bikes and like their light steel frames, LEGEND because they are cutting edge when it comes to electric folding technology and brilliant value, TERN because you cannot do better when it comes to folding bikes and intelligent urban solutions.
We also like testing our own products, so every bag, every phone holder , every electric bike that we sell has been tested and approved.
But bikes are also for fun, and in the team, we are a bit obsessed with mountain biking, touring and retro steel bikes. Steve will tell you all about mountain biking, electric or not, Dave will know which type of carrier you'll need for your trip, Anne will advise you on the Achielle range.
We also have been fixing all kinds of bikes for over 11 years. We provide a full range of repairs, from the simple puncture to the more complex suspension forks servicing. We will do so in a timely manner, and we will take pride in what we have done.
We believe in bikes as the solution for cities. They relieve congestion, make people healthy, and transport anything from the student to the mother of 3 or the elderly. Despite the lack of infrastructure, Dublin has become a cycling city, and it is all the better for it.
Opening hours: Tuesday - Saturday 10am to 6pm
167 Phibsboro road, D07 KP96
Accessible Transport Services for an Independent Lifestyle
Vantastic operates as a Social Enterprise, Irish registered Charity (Irish Charities Regulatory Authority registered Number # 20043728) that offers accessible transport services for people with permanent or temporary mobility difficulties, physical & sensory disabilities and not for profit organisations.
Vantastic currently operates the following services:
Rental wheelchair accessible car hire

Minibus (provided under our International Road Passenger Transport Operator Licence No. 210073468)

Individual travel
Group travel
Older Persons travel
Vantastic's Wheelchair Accessible Rental Car Service provides wheelchair accessible vehicles to support individuals with a disability, persons with mobility difficulties or impairments and wheelchair users to reach their destinations. Vantastic Rental offers its clients a cost-effec- tive alternative to vehicle ownership, which can potentially result in large cost savings against owning, insuring and maintaining their own vehicle, particularly when that vehicle would be used infrequently. The Rental Service is based on a membership model in which clients can hire from a shared pool of rental cars owned and maintained by Vantastic.
Vantastic Rental operates as a social enterprise with a mix of revenue generated from rental car hires and partial state funding. The main stakeholder groups that rent from Vantastic include individuals with a disability, their family members and friends and organisations or groups with service users with a disability. The Rental Service is staffed by a rental coordinator responsible for arranging rental
car bookings, a mechanic and secretary who manage the rental car depot, as well as a Chief Executive and a voluntary Board of Directors responsible for management and oversight
for the service, respectively. Some individuals using the Vantastic Rental have also used other transportation services provided by Vantastic,
which include the Wheelchair Accessible Minibus Service and the Health and Shop Route Service operating in Dublin.
In 2017, Vantastic decided to undertake a social impact evaluation of the Wheelchair Accessible Rental Car Service to understand whether the service offers good value for money. To answer this question, a Social Return on Investment (SROI) evaluation was selected as the best approach.
Unlike other types of cost-benefit analysis, SROI accounts for the organisation's impact on the health and wellbeing of its stakeholders. An SROI evaluation considers the impact generated as a result of an organisation's activities or interventions. It also gathers data to estimate the value that an organisation is responsible for creating.
DIGITAL OFFICE CENTRE SWORDS, BALHEARY ROAD, Swords, Dublin