Recreational, cultural and sporting services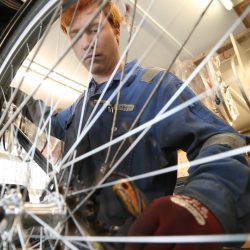 We're a not for profit cooperative in Galway City. We take bikes sent for scrap to waste amenities and repair them for sale, while teaching cycle mechanic skills to our trainees. We also do repairs & services on bikes and run regular DIY workshops where you can learn to fix your own bike from our volunteer mechanics.
Unit 21-22, Galway Shopping Centre, Headford Road, Galway, Galway
An Activity, Health and Well being Centre, set in an idyllic Green Flag park with Gym, Sauna, Steamroom, Sports Hall, Fitness Classes and 1000 seater Entertainment Venue.
Childers Park & Woodlands, Listowel, Co. Kerry V31 VK13
Siel Bleu Ireland is a social enterprise that provides life enhancing exercise programmes to older adults and patient groups. Siel Bleu Ireland is the first specific effort to promote exercise among older adults and patient groups in Ireland, with the aim of improving overall wellbeing. We design our programmes with a preventive approach that benefits all adults, at any age, and at any stage of their lives. We promote the autonomy and wellbeing of older people and people with chronic disease, ensuring that everyone has the capacity and self-confidence necessary to live an independent and happy life.
Siel Bleu Ireland offers group exercise programmes in nursing homes/daycare centres, with patient groups, in communities and one to one sessions in private homes. Our expert Physical Trainers gauge the ability of each participant and tailor classes to meet the group needs. Together this results in programmes which have a real physical, social and psychological impact.
18 Eustace St, Temple Bar, Dublin 2, Dublin, Leinster D02WR53