The core business of our EPIC social enterprise is the production of a range of printed promotional materials such as tee shirts, caps, mugs, bags, pens, conference materials etc. Like many other businesses, the demand for our products slowed when the pandemic struck. However, in response to the challenge of COVID-19, and to respond to a societal need, we diversified into the supply of hand sanitiser. In addition to our core business, clients in our four units in Wexford Town, Gorey, Enniscorthy and New Ross, are now engaged in bottling, labelling, packing, and shipping our Virus Killer hand sanitiser whilst adhering to the guidelines on social distancing, enhanced hygiene regimes and other health and safety requirements.
Spawell Centre, Spawell Road, Wexford, Wexford Y35E2FK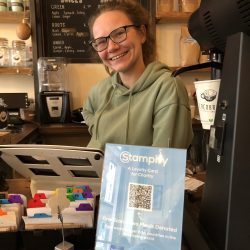 Stampify is a loyalty app for charity which allows cafe and restaurant customers to donate a meal to a child in the developing world in their place of education with every purchase, with the donation provided by the retailer on their behalf.
For Users: Stampify is a convenient, cashless means of feeding children in the developing world with every single purchase, rather than one redeeming a perk for themselves, like a free coffee or meal, after several purchases.
Please feel free to mention us to your favourite cafe or restaurant!
For Partners: Stampify acts as a corporate social responsibility scheme for partner cafes and restaurants, allowing them to support a great cause in tandem with their customers. It also works out cheaper than a conventional loyalty scheme, as partners do not have to give away a free coffee or meal or lose out on the opportunity of selling an extra one.
Feel free to reach out to us through social media or our website to hear more about the program!